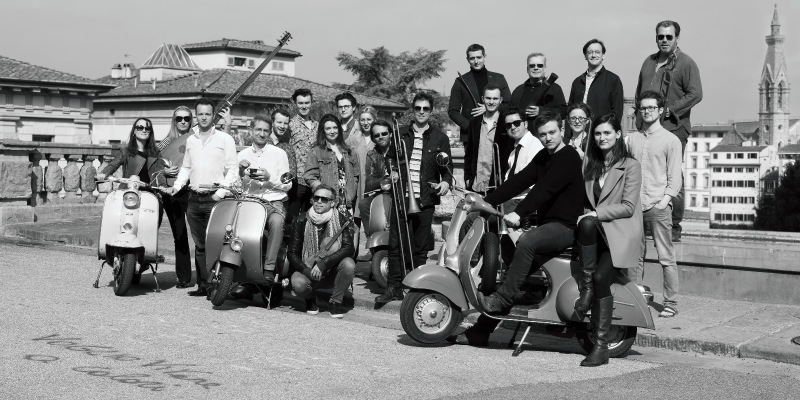 I Fagiolini & English Cornett and Sackbut Ensemble
Performance
Date and time:

Wednesday 4 October 2023, 7pm

Location:

In-person only
Sir Jack Lyons Concert Hall, Campus West, University of York (Map)

Admission:

Tickets: £25; concessions £23; students £7, booking required
Event details
Monteverdi 1610 Vespers
To launch our 2023/24 season, I Fagiolini and the English Cornett and Sackbut Ensemble join forces for Monteverdi's spectacular 1610 Vespers. As Robert Hollingworth of I Fagiolini writes, 'after many years, we return to this iconic, if sometimes misunderstood work, with a truly stellar line-up of performers dipped in the Monteverdi cauldron when young. Much of the glory of the Vespers' psalm settings is in their detail, too often lost in the vast acoustics of cathedrals. Monteverdi even suggests the more intimate "chapels or chambers of princes" for the publication's motets. Experience the music in the acoustic clarity of the Sir Jack Lyons Concert Hall – up to date with the latest research – as I Fagiolini and the English Cornett and Sackbut Ensemble offer an intimate guide to this defining work.'
Sponsored by Steve Brosnan and the I Fagiolini Charitable Trust.
I Fagiolini
Robert Hollingworth director, organ
Julia Doyle soprano
Martha McLorinan, Ciara Hendrick mezzo-soprano
Hugo Hymas, Matthew Long, Nicholas Mulroy, Nicholas Hurndall Smith tenor
Greg Skidmore, Sam Gilliatt baritone
Charles Gibbs, Frederick Long bass
Persephone Gibbs, Naomi Burrell violin
Gavin Kibble bass violin
William Hunt bass viol
William Lyons dulcian, recorder
Eligio Quinteiro, Lynda Sayce chitarrone
Aileen Henry harp
English Cornett and Sackbut Ensemble
Gawain Glenton, Conor Hastings, Nicholas Perry cornett
Emily White, Tom Lees, Adrian France sackbut
This performance has sold out. Join the waiting list?